Books from September So, closer closer closer. Think of me as the
Thomas the Tank Engine
of book reviewing. Not a lot of reading this month, because not only did I have a birthday, and my sister's birthday, to get on, but marathon training was at its peak. My spare time was spent running or eating. Because, seriously, I did not know how many calories a body needed to run so much. But I could eat 2--TWO--foot long subs and still be hungry. Yeesh. So, yeah, just a couple for this go round. Enjoy!
God, I heart this series so hard. While Toby is still reeling from the death of her irritating love interest, a changeling girl raised as human is kidnapped—and this is the type of super powered changeling that has the power to rip apart the boundaries of Faerie. As Toby & Co try to hunt her down we're reintroduced to several locales and characters from prior books, which is nice. (Please, read the the books in order.› There are two problems with this book. Problem the first? It's the one that comes after
One Salt Sea
, a nearly impossible act to follow, so it suffers a bit in comparison. Problem the second? It feels like a lot of nifty set pieces strung together by emotional interactions. And yes, I champion emotional interactions, and yes, they play an important part of making characters believable, and growth linked coherently to past events. But somehow, it starts to feel like Toby is repeating a few conversations and the thread of hunting down our changeling trouble maker ripping the worlds apart
doesn't quite
carry enough momentum to sustain all the breaks. But this is a super minor complaint. By and large, the plot is swift, the characters react in ways that are consistent and plot relevant, and the payoff of several series long plot-arcs is well handled. This is one of those worlds, like
Ilona Andrews' Atlanta
or
Patricia Briggs' Tri-Cities
that you can breathe in and smell the tang of the Bay, the leather of a jacket, the smoke of a burning building. If you haven't already gotten hooked, it is absolutely worth getting into.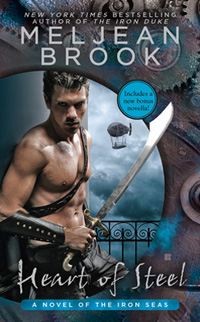 Look, I know this is shelved under romance, and it is, but I swears, it is also one of the best steampunks I've come across. Both in terms of word building and of plot. There are zombies--Zombies!—and there are airships and pirates, and believably screwed up characters, and tricky, complex relationships that I enjoy untangling. There is also a fair dash of tragedy, romance, and more than enough steam to make that
50 Shades
chick cry in shame. Which she should be doing pretty much always, but still. If you read the first book in this series,
Iron Duke
, then the set up was already introduced. A mercenary airship captain takes an adventurer into zombie territory, but while sparks might be flying between them, things go very, very wrong. Both leads are interesting, the plot is brisk, and the sets are fan-freaking-tastic, and, as I said earlier, the world building on display here is just rock solid. This is a world transformed by steam technology, and ravaged by an alternate history timeline where the Khan's horde had not only numbers on Europe, but technology, and has swarmed across the globe, spreading nanotech in its wake. If
you've
ever been intrigued by steampunk, this is a great example of what it can be. And don't let the sex scare you off, it's also incredibly gritty, gory, and hard-assed. The only reason I suggest waiting until they go to mass market paper is that these versions tend to add on a standalone short story at the end. And that's like a bonus for paying less, so, um,
duh
.
A lady who is rich, but not pretty* is wooed by a lovely young man, they wed, and she discovers he really was only in it for the money.
Which, of course, he wasn't and really truly lurvs her.
But she throws him out, and then the book takes a turn for the silly.
Because the hero, an English peer, takes to sea and becomes a tattooed pirate.
Yeah.
That.
And then he comes home and society accepts him back with open arms because . . . reasons.
And the only person who hesitates is his wife, understandably miffed that he's spent years with doxies, showed up back from the dead without telling her first, and is maybe slightly crazy.
But our hero is an über Alpha male, and he wins back his lady love despite all these obstacles.
The leading lady is a fabulous creation, the dialogue sparkles, and the plot concept, while familiar, is well handled.
But wowzers, the idea that a tattooed pirate lord would ever ever in a 1000 years get any kind of green light in regency England is ridiculous.
Just, just, words fail me.
I know that it's supposed to be fluff, meaningless empty calories consumed rather guiltily.
But still.
Did he have to get the ink on his EYE?
Come on here, somewhere, a line was crossed.
I know this author can do better.
Get it used and prepare for a giggle interspersed with sympathy tears.
Because, wow, she nailed her leading lady.
If only the same could be said of our hero.
*And never, never Princess Diaries into being pretty, but rather just learns how to dress well and carry herself in a manor called "fuck you, I'm richer than Croesus" which makes me so fracking happy I can barely say.
A note on Grading: on my Scale A=I might buy the hardback; B=pay trade cover price; C=get it used or from the bargain bin; D=used if you're in to self flagellation; F=what, are you stupid?